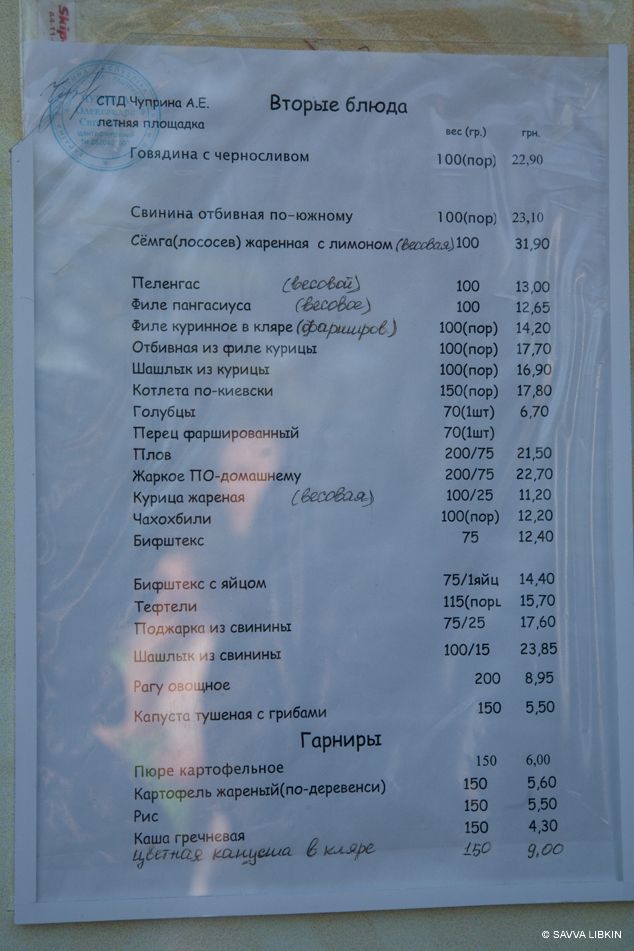 A typical menu of a typical post-Soviet restaurant can't do without several commonly popular cuisines, e.g. Ukrainian, Russian, Japanese, Thai, Georgian, Uzbek and, of course, Italian.
Sure thing, there is only one chef to cook them all. In Moscow, there are might be two: one chef for Ukrainian-Russian-Georgian cuisine and the second — for Japanese-Thai-molecular-Italian.
Apart from that, the menu contains pizza and sandwiches, steaks and barbecue, sushi and tapas, seafood and various breakfasts. There is a separate page for special-order and banquet dishes, as well as for tandoor-, mangal-, grill- and oven-cooked dishes. Vegetarian and children's menu is also included.
The Menu should comprise of at least 200-250 dishes to meet all possible expectations.
As for design, it is usually a leather folder with each page laminated or just put into a separate file. If needed, it is not a big deal to correct old prices with a marker pen. But it is important to Google translate menu into main European languages, including Moldovan and Turkish.
It is critical for the menu to contain hookah, dessert, tobacco, cocktail, tea and coffee lists (the latter are especially important, because these are the only beverages, aka dishes, available in some restaurants). The menu also encloses special offers, chef's specialities and beer snacks. Cost of broken tableware is specified in the end.
The following dishes are a must:
Mushroom Glade, Gourmet, Sopska, Greek and Caesar salads, as well as pesto mussels. Actually, the oftener the word 'pesto' is mentioned, the greater impression the menu produces. Julienne with mushies is also necessary... With that, it is very important to use diminutives. Not just mushrooms, but mushies, e.g. common and honey mushies. I can't but mention seafood salad and seafood dishes in general, especially, when the nearest sea is in 500 km from the place. One can also add lobsters, foie gras, truffle pâté and oysters, because it will be embarrassing, if a foodie comes to a restaurant, and there are no oysters to offer.
The list of first courses starts with a consomme or an onion soup, then various Ukrainian borsches and solyankas follow, and bouillabaisse, miso soup and kharcho complete this part of the menu. Photos and serial numbers are welcome for waitstaff not to get confused.
A decent menu can't do without the following terms: slices, assorted, nocturne, mixed, a pan of, cheese-covered, French-/Hawaiian-/home-style, zesty, flambee, teriyaki, slow cooking, concasse/crudités variées/mirepoix, duo/trio/quartet and so on and so forth, dry-aged, seasonal or fresh from the garden and blancmange. Sometimes, however, managers and waitstaff confuse duo with nocturne, but guests correct them every once in a while.
As for meat, it is important to mention Kobe, Prime, Wagyu, marbled meat and Angus, the latter should be definitely black, especially, if you buy Polish frozen meat or some local meat from your neighbour. Last thing to do for grilling menu is to leave out term 'liquid smoke'.
It is easier with the fish: tuna shall be only bluefin; sea bass — definitely Chilean and fresh; cod — black for sure, to team up with Black Angus; and shrimps — either tiger or royal. As for the rest, adjective 'wild' saves the day.
For the sauces, it is important to remember about the leaders: mayonnaise, adjika, tkemali, barbecue, tartare and ketchup.
The range of desserts shall definitely include fruit salad and assorted ice-cream, whereas by 'assorted' various decorations, such as waffles, umbrellas or colourful toothpicks are meant.
It is preferable to add words 'millésime', 'terroir', 'appellation' and 'Château Margaux' to the wine list. It is a good idea to mention young Beaujolais in June.
Restaurateurs and those who consider themselves the ones can use the above-mentioned recommendations to completely discriminate national cuisine and food culture.
Written for Forbes No.8 (18).