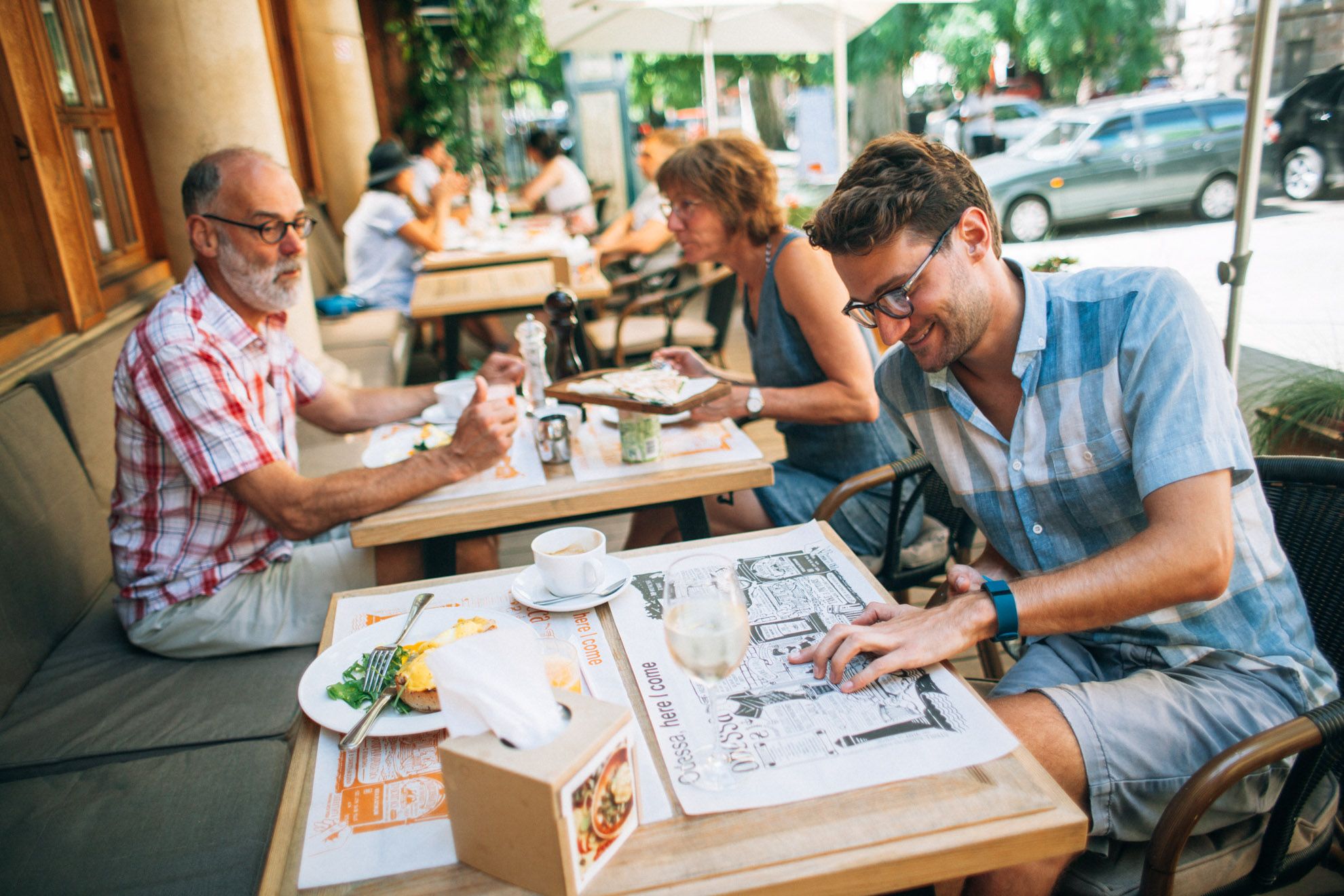 People keep travelling, as if somewhere they could find something they miss at home.
Why do people go to London? To try to put guardsman standing in a preposterous fur hat near Parliament gates out of temper or to take a ride on the London Eye that was opened to the public in 2000 — the year when the doomsday was predicted.
Why do people go to Paris? To take pictures near the Eiffel Tower and to get an injection of French contempt in response to a broken-English attempt to figure out the way to the Champs-Elysées (let alone the Seine).
Why do people go to Shanghai? To feel like an alien, Gulliver in Lilliput or vice versa and to cleanse the colon for the next half a year.
Why do people go to Odessa?
To live, to love, to eat and drink well...
And also:
To get a book of Zhvanetsky [famous Odessa writer];
To explore the Botanic Garden;
To drop by the passenger terminal of Odessa Sea Port;
To pop in the synagogue in Osipova Street;
To try luck and get to the city hall;
To buy tickets for Hobart Earl's classic music concert in the Philharmonic Theatre;
To find the Archaeological Museum and have a look at Scythian gold (if it has not been swiped yet);
To swim in the sea at night;
To fry mussels on an iron sheet at the beach;
To have breakfast at Kompot in Deribasovskaya Street;
To catch a bullhead from a motor boat or a pier;
To exchange money and have some coffee at Knizhka [former book market];
To swim with dolphins in the dolphinarium;
To enjoy Black Sea spat at Dacha and to flip through the book about Odessa cuisine;
To learn, how to cook stuffed fish at famous Odessa Privoz Market;
To observe the port from Zhvanetskiy boulevard at night;
To wait in line to get to the 12th chair, designed by Mikhail Reva;
To dance at Ibiza nightclub;
To feel like an Italian at iconic Tavernetta;
To run on Trasa Zdorovya (Health Track) along the seaside;
To walk along the pier to Vorontsov Lighthouse;
To taste local wines Guliev and Shabo;
To visit Starokonny Market [Odessa flea market] and to buy a tea strainer there;
To walk along the route the Colonnade — the Tyoschin Bridge [the Mother-in-Law Bridge] — Gogol Street — the house of count Tolstoy — the garden of this house — Sabaneyev Bridge;
To sit on the veranda of Steakhouse and observe young women passing by;
To count steps of the Potemkin Stairs;
To go down to the grotto of the Art Museum;
To stand on the hatch near the monument to Duke de Richelieu;
To take picture with the statue of Atlantes;
To see the Opera House and to take picture on the stairs...