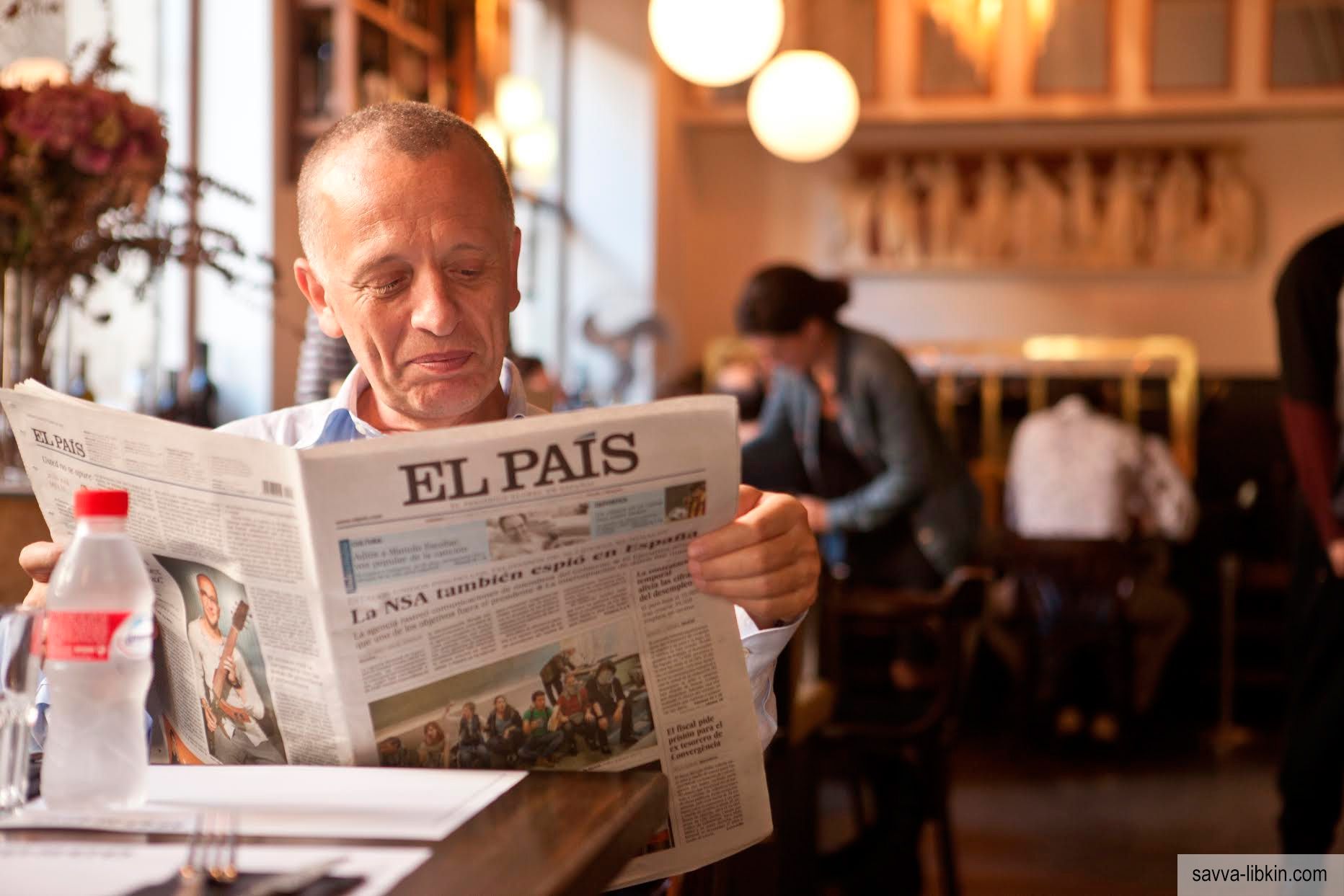 Self-Criticism: With or Without Blood?
A restaurant owner is a sensitive and vulnerable creature. My feelings are easier to hurt than those of an artist. There is even no need to come to a restaurant for this, it's enough to rate it one star. No, I don't mean, a Michelin star, but that on a Facebook page. Do you know why?
Because a guest with a pit bull was asked to leave his dog outside.
Two girls were requested to seat at the table for two, because a big company came, and there were no other free tables.
Water was not served immediately. Water was served with lemon and peppermint and 'I don't like when it's served like this'.
'Wine is too cold'. 'Wine isn't chilled enough'.
'Your pasta and rice are undercooked'.
'I want my foie gras well fried'.
'There's a stench of truffles coming from the next table, I can't stand it'.
'Anchovies you serve are salty, olive oil — bitter and balsamic vinegar — sour'.
All this is just from guests. From social media.
What can I expect from my employees then?
A cook put basil leaflets on the wrong side of a dish.
A waitress didn't smile at guests. The smile of a waitress is too broad. Guests are displeased again with all the stones thrown at the restaurateur.
When I hear from my colleagues careful, subdued complaints about lack of restaurant criticism in Ukraine, I think that five-hour sleep is too much for them. Sleeping is for softies, while restaurateurs are strong, although vulnerable. Decent restaurant criticism will deprive restaurateurs of sleep. It's just energy conservation principle.
One can say, 'And what about London? There are so many great critics and good restaurants there, and the restaurant culture is flourishing!.. They've been working together for a common end after all'. Well, the grass is greener on the other side of the hill, the broth is richer in neighbour's pot, another man's ..., and it's always better abroad. If a party of British critics perfectly speaking Russian and Ukrainian invaded Ukraine, our restaurateurs would fall in an uphill battle, either from sleepless nights or devastation (first of all emotional). Below are several quotes from the British restaurant critics as an example.
Giles Coren, The Times, the review of The Court Restaurant at the British Museum: 'The taste and texture of the pease pudding reminded me of occasions when I have accidentally inhaled while emptying the Dyson. The pork was grey and grizzled. The gravy was Oxo-ish. It tasted like airline food. I'll take that kind of grub if I can swallow a couple of Temazzies afterwards and wake up in Sydney'.
Matthew Fort, The Guardian, the review of Opium: '... the fourth element in this combination, which looked like a sea mine in miniature, was the most disgusting thing I've put in my mouth since I ate earthworms at school ... On second thoughts, I preferred the worms'.
Jay Rayner, The Guardian, the review of Jaan: 'The food at Jaan is, by turns stupid, ill thought-out, or just plain nasty. I may not be able to call it the worst cooking in Britain, but that's only because I haven't eaten in every restaurant in the land'.
Rayner also did not spare successful Novikov restaurant in London, which offers tasty food, to my opinion: 'In a city with a talent for opening hateful and tasteless restaurants, Novikov marks a special new low'.
Michael Winner, The Sunday Times, the review of Bibendum: 'I have recently had the worst meal I've ever eaten. Not by a small margin. Not 'This is terrible but another one somewhere else was nearly as bad.' I mean the worst! The most disastrous. The most unrelievedly awful! You don't need to be an atomic physicist to grill steaks, do you? They arrived so raw you could have drowned swimming in the blood'.
Adrian Grill, The Sunday Times, the review of 66 (New York): 'Shrimp-and-foie-gras dumplings' tasted as 'fishy liver-filled condoms'.
Matthew Norman, The Sunday Telegraph, the review of Shepherds: 'It really is the eighth circle of hell... Were the crab and brandy soup found today in a canister buried in the Iraqi desert, it would save Tony Blair's skin [i.e. the skin of British Prime Minister from 1997 to 2007 in his hunt for Saddam Hussain in search of banned weapons, including chemical and biological ones]. After this review, the restaurant owner threatened to sue The Sunday Telegraph.
You might think, I have quoted from the reviews of some cheap pubs in suburbs, that are called hendelyks in Ukraine (don't think that after famous composer George Handel). Well, not at all. In popular (and rather expensive) Chinese 66 that serves the above mentioned dumplings, the kitchen is managed by one of the world's most famous chefs Jean-Georges Vongerichten, while Shepherds is a respected and rather old London restaurant that can boast having politicians and stars among the customers.
In Prague the situation is no better...
Restaurant critic Helena Baker from The Prague Post takes no reward for her reviews and always pays her restaurant bills by herself. This is an editorial policy.
The press and restaurateurs themselves are not ready for honest reviews so far, while we have plenty of other kind.
People are prone to idealization. 'If it were like in the West...' The West, however, has not only well-groomed streets and comfortable environment, but also high taxes and expensive health care services for those without insurance; and not all restaurants are great and awarded with stars. Are we ready to accept everything, and not only the things we enjoy as tourists? Or should we be content with Facebook stars from strangers instead of those from restaurant critics for the time being?