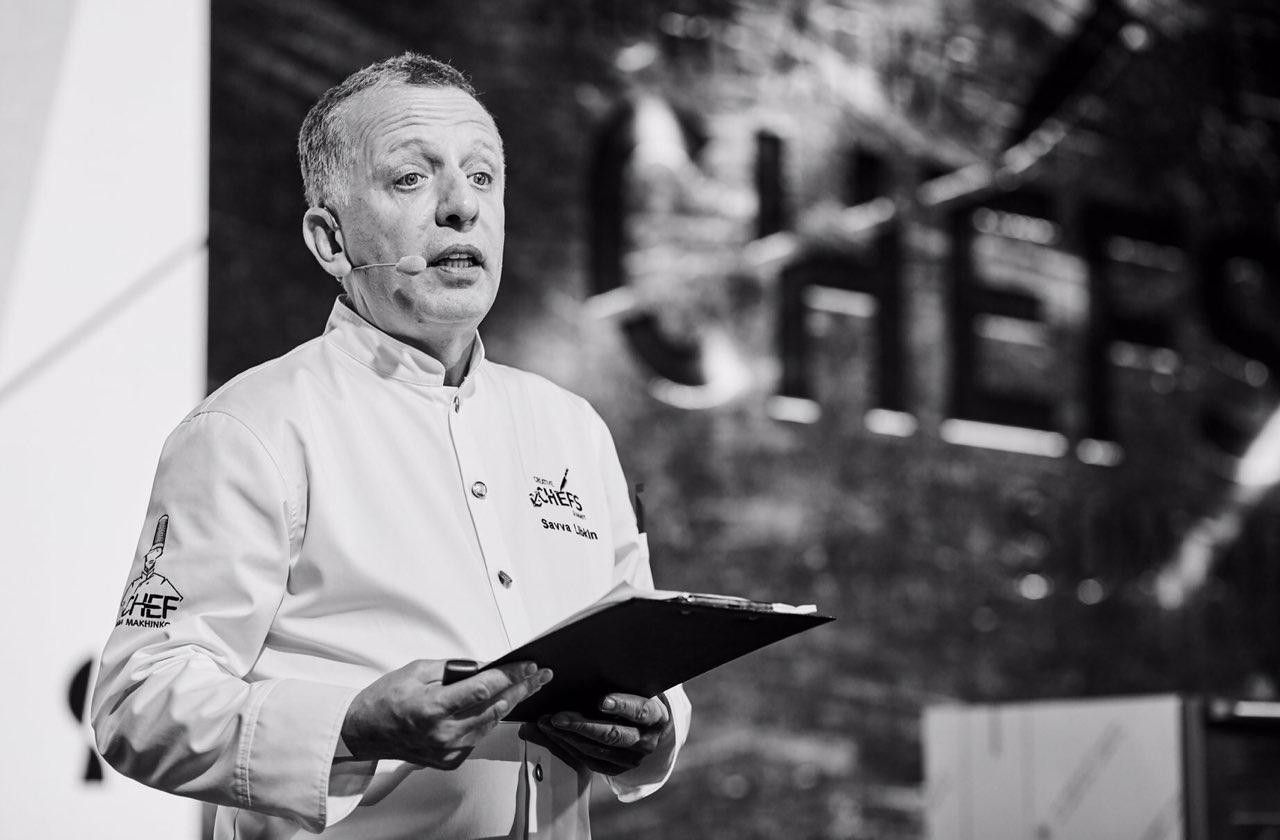 WHO IS A CHEF?
Notes for Creative Chefs Summit 2018
Creative Chefs Summit is an international meeting of creative chefs. By creative, I mean original and ingenious. The word 'create' in Russian language doesn't always has a positive connotation and is sometimes used as an irony or even worth in the meaning of 'What have you done?' or 'Look at the mess he's made!'

BACKGROUND
For a long time, it was generally accepted that cooks were the same workers as carpenters and smiths. Only during the reign of French king Louis XIV, culinary gained the status of art — haute cuisine (literally 'high cooking') similar to haute couture ('high fashion').
There were three categories of cooks, depending on their skills and knowledge:
A worker — the person, who was able to feed, i.e. had enough skills to cook simple dishes: to make a soup, to fry potatoes or a steak, etc.
A master — a cook, whose dishes were so tasty that guest kept coming back (this is how we choose our favourite restaurants);
A genius/creator — a cook, whose dishes were real pieces of art both in terms of serving and taste; one felt sorry for eating them, and they were remembered forever.
The situation is 'a bit' different nowadays. We still have those workers, who make shawarma and hot-dogs and season salads with Thousand Island dressing.
The number of masters keeps decreasing. There are endangered spices actually, because academic ('French') education is always an issue everywhere.
As for the last category, almost each and every graduate of a culinary school fancies him- or herself a creator.
The modern HR market is based on illusions on both sides.
IDEAL CHEF. WHO IS IT? (Irony follows)
A person that:
Creates and thinks through all recipes.
Can make dishes from different countries and continents using supermarket products.
Monitors prime costs.
Is involved in all processes.
Arranges with suppliers.
Cultivates vegetables for a restaurant.
Herds cows and sheep to make sure they eat properly.
Goes to the food market and knows all vendors there.
Makes all purchases.
Grows vegetables at home.
Drinks but never gets drunk.
Goes to church on Sundays before work.
Goes fishing at night.
Cooks demi-glace following Paul Bocuse's recipe.
Uses frozen beef pieces to make tournedos Rossini.
Knows how to make molecular hummus out of Polish frozen green peas.
Serves food to guests.
Manages an Instagram page and a Youtube channel.
Is invited to TV shows.
Works to get food for personnel.

Where to find one?
Many people can say that this is a question of proper education.
However, how one works is more important than where and how one studied.
Not all chefs were born and grew up in the kitchen.
Andoni Aduriz (manages Mugaritz restaurant that ranks 6 on the list of World's 50 Best Restaurants 2015 of San Pellegrino) failed all classes at school and his mother decided to send him to a cookery college, saying that at least if he could cook he would eat.
Thomas Keller (The French Laundry with three Michelin stars, Per Se with three Michelin stars and Bouchon) is one of the best chefs in the world and the most respected American chef. When he was about 20, his mother decided to open a restaurant in the premises of a French laundry. 'Who is going to be a chef?' Thomas asked. 'You can be the one if you want'. Keller wrote a menu, but to fulfil the orders he referred to a culinary book he had never opened before, as well as he had never cooked. No wonder they had to close the restaurant quite soon. Thomas, however, went to Europe to learn cooking.

FINDING YOUR WAY
To become an outstanding chef, one should make the way from a worker to a creator; have a perfect knowledge of products and technologies, and perhaps of different cuisines to understand, where one's heart is and where one can fully unlock the talent.
One can be born genius, but still genius is 5% of talent and 95% of work.
David Chang (Momofuku Group, 3* New York Times) told once that when he was young it was point of honour for him and his friends to make their professional skills perfect. He compares kitchen to sports: 'To become a champion one needs speed, strategy, precision, concentration and intelligence, and, what is more, be better than others at these'.

GREAT CHEFS
For the last 200 years culinary has faced two great inventions: gas and electricity (all the others are derivatives thereof).
And three geniuses:
Marie-Antoine Carême
Auguste Escoffier
Paul Bocuse
All of them made a revolution in their time in response to society's evolution.

WHAT DOES IT TAKE TO BECOME A CHEF?
What is the difference between a good cook and a good chef? A chef should not only be talented and hard-working, but also have the following skills:
Vitality.
Perseverance.
Charisma.
WHOM DO I CONSIDER A CHEF?
First of all, this is a mature person.

Chef and vision.
All team members should be aware of where they are heading together with the chef. The vision (the goal) should be clearly formulated and shared with every staff member for everyone to understand, what is planned for the future, and be able to take necessary steps on the chosen way.
Defining the vision — signature cuisine — is a time-consuming and painstaking process. One should try and test a lot to define, what products to work with, what cuisine, cooking techniques and tastes to choose. Vision can change with time: Picasso had different periods after all. It is essential to listen to your heart and to analyse each step, only then creative work starts.

Chef and values.
A chef should share and protect our basic values.
It must be a priority to take care of the team and serve guests.

Chef and knowledge.
A chef should have professional background and knowledge, as well as at least 5 years of experience of work with foreign chefs.

Chef and food.
Tasty food is a must for a chef. A chef should have a good command of cooking techniques and know products well.

Chef and taste.
A good taste is both universal and individual (culture-related).

Chef as a manager and a leader.
A chef needs to be an experienced manager, able to develop and introduce rules. A chef should be a manager and a leader for a team. A chef knows his/her strengths and supplements his/her skills with a production manager, a competent sous chef and a kitchen team.

Chef as a teacher.
A chef needs to know how to share his/her knowledge and skills with apprentices/subordinates.

Chef and numbers.
A chef needs to manage all product and inventory prices, monitor price changes, make business-related decisions, reduce expenses and manage prime costs.

Chef and organisation.
Everything should be well-organised:
1. purchase of products;
2. working hours of cooks; serving of dishes in one style etc.

Chef and a team.
A chef, as a manager should know how to deal with people, appreciate them for the work they do and demonstrate support. Communication with a team is essential. It is important to give room for failures and to overcome these failures together with the team.
Chef and criticism.
A chef should be able to take criticism.
It is important to embrace constructive criticism from a person, having a good grasp of culinary and knowing how to make improvements.

Chef is an engine.
Chef should be aspiring and proactive.
Chef should be the first person to come to the restaurant in the morning and the last to leave in most cases.

I would like to conclude with the words of Alan Yau, which I share: 'In a restaurant business, if you have failed everything make at least sure that you cook high-quality food in the kitchen'.