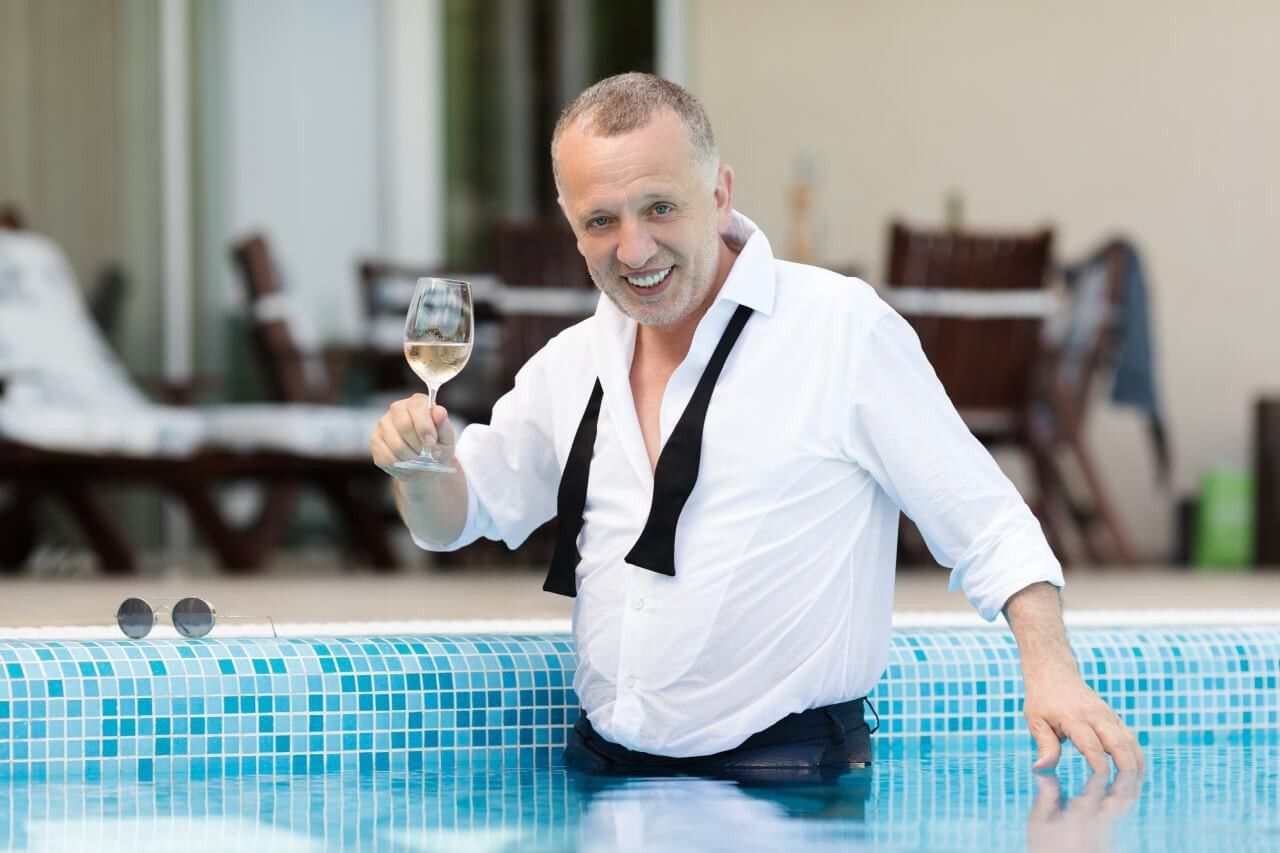 Restaurants, cities and people
I travel a lot around Ukraine and, of course, go to restaurants in various cities. Every city has its own restaurant culture, and one needs to understand its peculiarities not to starve to death. Let's start from Kyiv, then drop by Odessa and Lviv and end up in a country town N.
Kyiv
In a fancy Kyiv restaurant, a host will ask four mandatory questions before letting you in. Is someone expecting you? Do you have a reservation? Are you alone? Is this your first time here? The correct answers are: no, yes, no, no. Be precise and confident, otherwise they will ask to wait at the bar and leave you their forever.
When you talk to waiting staff, don't forget that their daily tips amount to turnover of a small business. Well, a distant look and very expensive, almost Swiss wristwatch will remind you about this anyway. Be ready that shisha smoke will blur your vision when you study a menu and that you'll have to talk over a DJ and shrieks from a karaoke hall when ordering. You can't do anything about it: you're at a fancy restaurant after all!
Before you get your wine, you'll be interviewed by a local sommelier. His aim is to make sure you have at least minimal awareness of his wine culture and to recommend the most expensive wine. When you refuse and order the wine you want, he'll raise his brow, give you the cold shoulder and then lose interest in you forever.
There will be a couple of political bigwigs on the right and a group of businessmen known from a popular video blog on the left. Their bodyguards will occupy the rest of the tables, so be careful with your fork.
Odessa
In Odessa, you are very likely to be in a good mood and relaxed. Many will try to take advantage of your state, especially your waiter, whom you'll first mistake for a drunk sailor (because he'll be a bit tipsy and dressed in a striped shirt). With a sweet smile, he'll ignore your orders and will serve what you've never ordered instead. Both, however, will be included in your bill the waiter will bring with the same sweet smile.
The menu will tell you that recipes belong to owner's mother, grandmother or aunt-cousin. When you get tired of this family tree, you'll stab your finger at a random dish and will make a big mistake. The thing is, it is OK to order forshmak at some restaurants, and is not at all advisable at others. The same goes for gefilte fish, aubergine paste and other Odessa specialities. Take an experienced Odessa resident with you to avoid mistakes. Perhaps, you'll have to treat him or her, but this a fair price for the right choice.
Just so you know, not all restaurants in Odessa are meant for eating. There are places people visit to see and be seen (this can be the same category of venues or two different ones). Beauty parade restaurants (let's call them this) are usually located in crowded tourist areas and have their own "dress code". Girls dress up as if they were attending their friend's wedding and wanted to steal the show from the bride. Boys try to look like Italian millionaires, but usually resemble Turkish money-makers more. This dress code is only relevant for locals. A tourist is allowed to wear shorts, flip-flops and a sleeveless shirt rode up above the belly button. It's fine as long as there is big sign saying "Philipp Plein" on the shirt, and a pair of plimsolls with crystals to complete the image.
Lviv
To find a Lviv restaurant mentioned in all tourist listings, you'll have to get to a bedsit through a window, then find a hatch into a floor, open it by pressing certain floorboard and jump down on sacks with coffee extracted from 13-century Lviv baths. Then they will ask you a password, and if you know it, a friendly security guard dressed in the uniform of the Organisation of Ukrainian Nationalists will lead you to a table under the portrait of Sacher-Masoch on the wall.
Although you speak Ukrainian perfectly well, you'll discover you can't understand half of the words in a menu. Relax, all these words are used only in Lviv, and some of them only in this restaurant. Anyway, Lviv restaurants don't focus on food. They focus on bells and whistles, lovely vases and tablecloths, and other cute stuff that has nothing to do with food. Well, you can dine at a plain hotel restaurant after all, because food is not what people look for at legendary Lviv restaurants.
Country town N.
Interior of the best (and usually the only) restaurant in this town is something between traditional mud hut, medieval castle and Swiss chalet. Tables are laid with clean linen, waiting staff wear white gloves and barmaid — white head-band. They will first lit candle on your table (don't worry, they will bill you for this). If you are (un)lucky enough, there will be a musician with unlimited repertoire: from classic music to rogue songs, from local pop singers to the Beatles.
Don't even try to pull menu from a table: this folio is as thick as hundred parchment pages, and is too heavy for a hungry person. The menu will offer borscht and vareniki (filled dumplings) with bacon crisps, khachapuri (traditional Georgian dish of cheese-filled bread) and pizza, burgers and sushi, as well as many "traditional European" dishes nobody has ever heard in Europe of. They won't be able to cook half of the recipes at the moment, but don't be upset —there will be plenty of other dishes to choose from. Never ever order sushi there.
At some point, you will notice a couple at a table in the corner keeping a close eye on you: a short-haired man in a leather jacket with huge finger rings and a woman in a tight leopard print dress with upswept hair. Don't be frightened: these are restaurant owners — very nice people, indeed. The woman will go to the kitchen to help with your order, while the man will sit down next to you with a bottle of cognac to tell a long story about his restaurant owner career that started back in '90s, when he accidentally bought a wagon of Polish vodka.
Fortunately, not all restaurants in my favourite cities and towns are the types above. I just wanted to summarise usual features of some venues and added a bit of sarcasm. I travel outside Ukraine a lot, so I have something to tell you about foreign restaurants too. Stay tuned, to be continued!