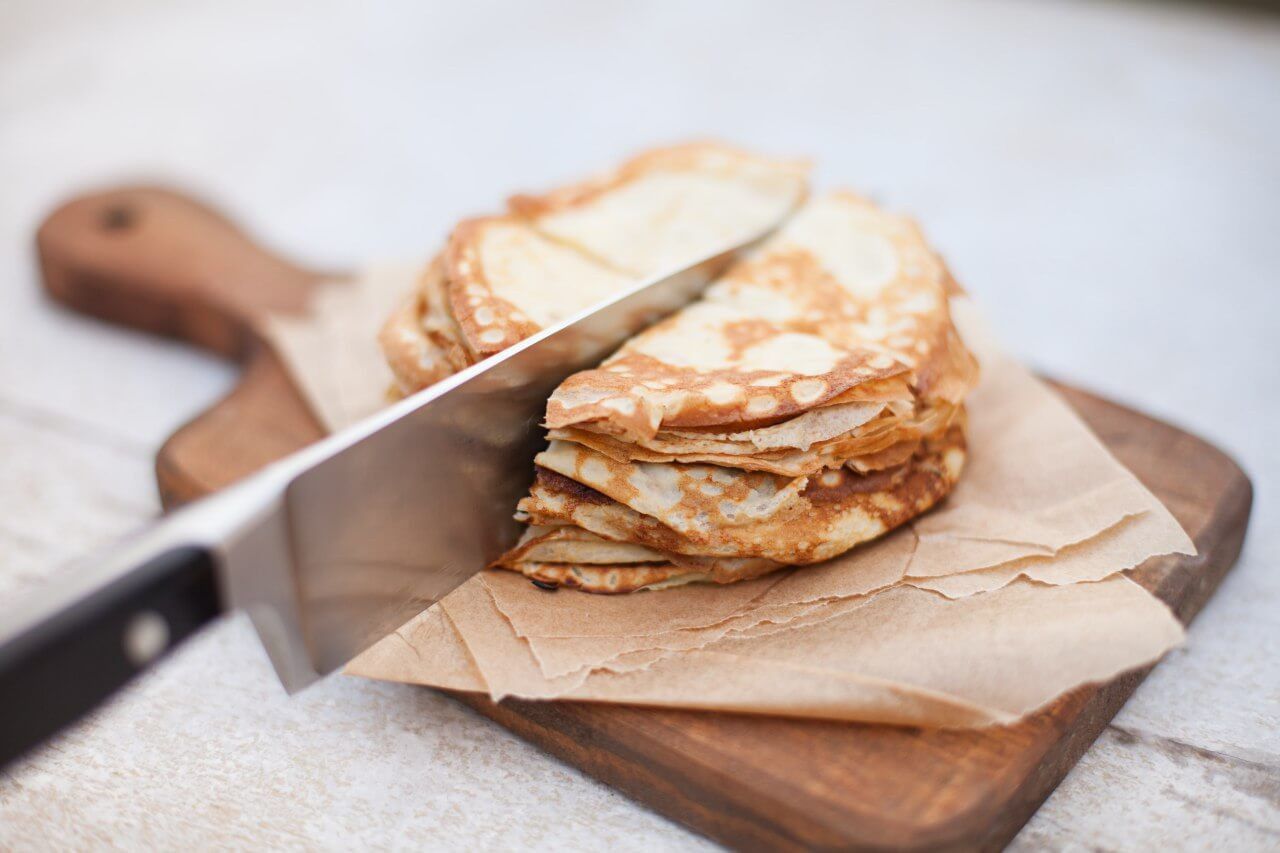 Miniature pancakes ("naleśniki", rolled up pancakes) with cottage cheese
It seems that the pancakes in their modern interpretation came to the Odesa cuisine from the Polish cuisine. And if in some countries pancakes are served in the French manner as an antrème, then we, like our Polish neighbors, eat them necessarily hot and as a separate dish. Whether it will be a dessert or a full-fledged snack depends on the filling. The only principle position of Odesa natives regarding the size of pancakes remains unchanged. I understand the question may arise: "Why so many difficulties?" I propose once to spend time cooking to a recipe and try. I am sure that the result will be a convincing answer.
Ingredients
For 2 servings
For the dough:
170 g of flour;
6 domestic eggs;
1 tbsp. of home-made sour cream;
1 tbsp. of seed oil;
250 ml whole milk;
1 tbsp. of sugar;
1 pinch of salt;
50 g of butter.
For filling:
200 g of homemade fatty cottage cheese;
a vanilla pod;
2 tbsp. of sugar;
3 egg yolks;
30 g of raisins;
1 tsp. of powdered sugar;
50 g of sour cream.
Process
Let's start with the dough for pancakes: grind eggs, flour, sour cream, sugar and salt until the sugar dissolves.

Add milk. As a result, we should get a liquid homogeneous dough without lumps.

Add seed oil to it and leave it at a room temperature for 30-40 minutes.

And while the dough brew, you can prepare the curd filling.

Wipe the fat cottage cheese through a sieve.

Rub it with sugar, seeds from half a pod of vanilla and yolks in a homogeneous smooth mass.

Add the washed, cleaned and pre-steamed raisins for 10 minutes.

Mix again and proceed to the pancakes. To make them of the right size, take the smallest pancake pan, 10 cm in diameter.

Since the dough contains seed oil, we will bake pancakes in a dry pan, greasing it only before baking the first pancake. Finished pancakes cut into 4 parts each.

Spread a teaspoon of curd filling on the resulting mini-pancakes (yet no more will fit) and roll it.

Lay the bottom of the ceramic form with an "empty" pancake and grease with melted butter.

Lay a thick layer of pancakes with cottage cheese, constantly greasing them with melted butter so that they would soak.

Top with melted butter and close the backing plate with a lid.

Put it in the oven heated to 130 ° C and hold for 50 minutes, so that pancakes become well stewed, but not fried.