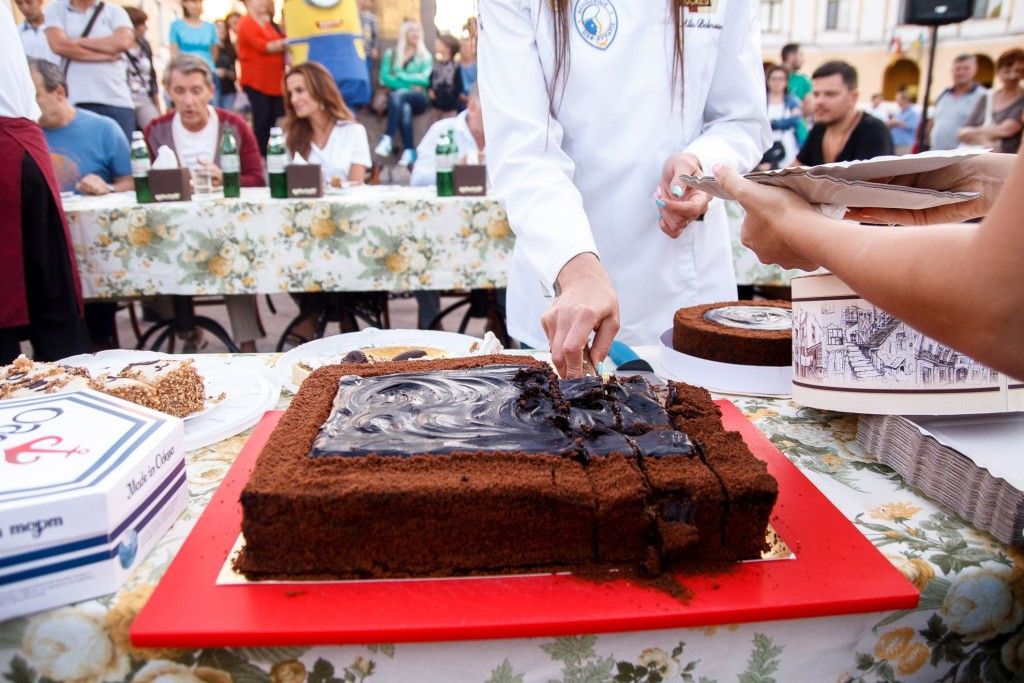 Odessa «Fountain» Cake
On the 20-th of July , the whole world celebrates the Cake Day. Since the winner of the «Odessa Cake» competition has been named - Odessa citizens have a good reason not to ignore it. Today, the cake «Fountain», layered with chocolate ganache, sweet and sour apricot marmalade and you can find it in «Kompot». That goes to the friend and relatives with the words "I CAKE YOU". To treat guests and neighbours. Send to any city in the world. Eat yourself. Or ... cook at home. The last one cannot be done without a prescription. Cake "Fountain" is already available in the network of «Kompot» cafes (250 UAH for 700 g, 64 UAH for a piece). Today on Deribasovskaya street. From tomorrow - in all the «Kompot» cafes of the city.
Ingredients
Shortbread layers:
70 g of softened butter;
1 cup of sifted flour;
2 tbsp. spoons of powdered sugar;
1 tbsp. spoon of sugar;
1 tsp. of cocoa;
1 yolk;
1 tbsp. spoon of brandy.
Airy-nut cake layers:
10 egg-whites;
1 cup of sugar;
2/3 cup of peeled ground almonds.
Chocolate ganache:
1 cup of cream 35% fat;
½ cup of cocoa;
3 yolks;
1 cup of sugar.
Dried fruit jelly:
1 glass of apricot confiture;
½ cup of dried apricots;
¼ cup of prunes;
2 tbsp. spoons of congaс;
juice and zest of 1/2 lemon;
1 tsp. of gelatin and 2 tbsp. spoons of water.
Cooking process
The shortbread layers:
Whip butter with sugar and powdered sugar until white.

Add egg yolk and brandy. Continue whipping for another 2 minutes. Then reduce the speed and add flour mixed with cocoa.

Stop the mixer and manually knead the dough, otherwise, it will not gather from the crumbs into a single whole.

The dough will be soft, but should not stick to the hands.

Wrap the dough in food wrap and put in the refrigerator for at least 1 hour - maximum up to 2 days.

Before baking, get the dough out of the fridge, divide it into two parts. Roll each into a circle with a diameter of 20 cm.

Carefully place it on a baking sheet covered with parchment paper.

Cuts from dough bake together with the cake - crumb will come in handy for sprinkling the sides of the cake.

Bake at 160 degrees for 12-15 minutes.
Airy-nut cake layers:
Egg-whites whip together with sugar, into a strong, stable foam until the sugar dissolves.

Add ground nuts and mix gently.

On the parchment draw circles, 1 cm smaller than the diameter of the finished cake. Within these limits evenly put the egg-white mass.

Bake at 140 degrees for 1 hour, then another hour - at 100 degrees.
Ganache:
Mix sugar with cocoa, then add cream and yolks. Mix thoroughly with a whisk.

Heat over low fire until it thickened, stir constantly. Cool it.
Dried fruit jelly:
Soak gelatin in water. If it is instant gelatin, then soak it according to the instructions for 30 minutes.

Dried fruits scald with boiling water and dry them. Add cognac and leave for 1 hour, then grind in a blender.

Mix confiture, chopped dried fruits, lemon juice and zest. Heat up to 70-80 degrees.

Add soaked gelatin and stir until it dissolved. Remove from heat and cool.
Design:
Put the shortbread layer in the ring. Put 1/3 ganache on it.

Then the sequence goes like this the cake meringue, all jelly, cake meringue, 1/3 of ganache, shortbread layer.

Ringed cake put in a refrigerator for several hours.

With half of the remaining ganache cover the sides of the cake and sprinkle with shortbread crumbs.

Warm up the remaining ganache and pour it onto the center of the cake.