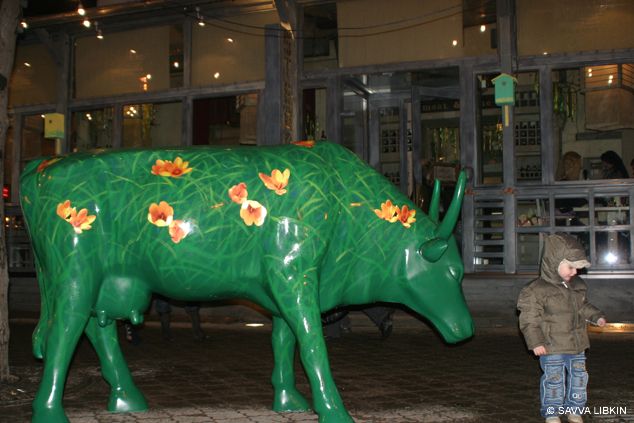 Sevela would have written a more interesting piece
When I try to recollect, how it all began, I just want to come back to a small café with a bunch of tired prostitutes, where they sold several portions of coffee a day and sandwiches staffed with something vaguely resembling food. Occasionally, one could also come across gloomy customers, wearing whitish, sometimes even white socks. It was a long time ago. Nowadays, when passing by the facade, I can sometimes recognise through veranda windows silhouettes of the old Soviet bar located in the famous shop.
Here presentable man named Roman Yakovlevich is leaving the restaurant. His wife also comes occasionally and spends hours on the veranda, observing children whirling around the cow statue near the entrance. Roman usually orders Caesar salad and several shots of vodka, but only if he comes alone. If his wife accompanies him, they take something more substantial and drink Chilean wine. The wife prefers to come with her friends, in which case they also drink vodka and eat salmon tartare or the same good old Caesar. Roman orders stakes only when he comes with Vladimir Naumovich. The latter is also our regular customer; sometimes he talks to waitresses in a manner implying he expects they will understand and approve his modest tipping. Vladimir actually leaves tips only when he is accompanied by Roman. When he comes alone, he pays the exact amount stated on the bill and nothing more. Roman's wife leaves generous tips, but only when she comes alone and only for handsome Grisha. Other waiters do not even approach her. Sometimes they come to the restaurant all together. In this case, tipping amount does not depend on waiter's appearance.
Businessman Yevgeny is another regular guest of the restaurant. He always puts the 17-inch laptop, several phones, modem and the fake Montblanc wallet on a table, and starts examining his Breguet watch, whenever a woman passes by on the way to the toilet. The watch is also fake. He orders food on rare occasions, but enjoys wining the wife of his friend that is mostly away on business trips. Usually tipping amount doubles, when she looks at him, her glance a bit softened by yet another bottle of Merlot.
The table next to the entrance is occupied by a grandson of local businessman P.V. This P.V. is a notorious person, so I would rather call him by the initials. The grandson is always generous with both orders and tips. And nobody cares that the tips he leaves are of illegitimate, to put it lightly, origin. Sometimes, when he is drunk enough, he makes a pass to Roman's wife. As for P.V., without hiding or confusion, he quite often invites Vladimir's wife to his table. And why should he hide, if she comes to the restaurant with various companions at different times? A few words about handsome Grisha. He just ran wild, after two girls, whose fathers are bigshots in Kiev, had invited him to 'coffee'. He believes he is kind of Casanova, although he spends the tips he gets from Roman's wife solely on advances to the daughter of his boss, who keeps dinning to her father's ears that it is high time to promote Grisha to an administrator. And this is just the beginning of 2002...
To be continued on Saturdays at 22:00