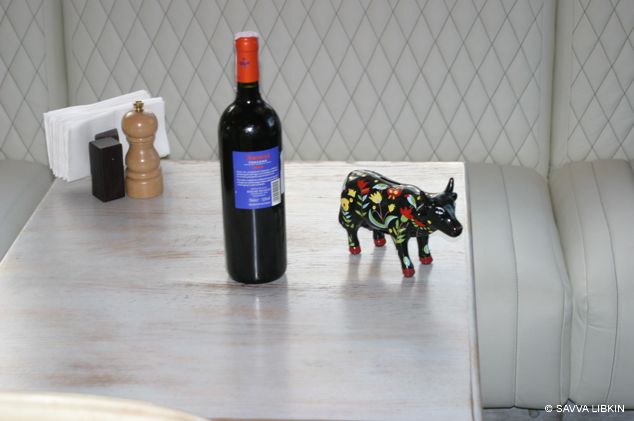 Sevela would have written a more interesting piece 5
Continued, started here:
The city kept changing. New types of clubs opened just for 3-6 months of active business. New instantaneously engaging mixed projects opened, e.g. restaurant-lounge-bar-casino-club-sauna-banquet hall-sushi bar. The word 'fusion' became a strategy, a flag and a best-seller all at once.

Even communists disguised as reformers ordered 'that' during business lunches in cafe/bars of executive committees. One day business actively flirted with the most depressive population using sushi and discounts, another day — with first-generation or newly-made celebrities by means of such word combinations, as luxury limited addition, put against a dark green background and in a gilded frame, of course.
Odessa historical and beach resort area called Arcadia was turning into cheaper version of Thailand. Middle class turned to active travelling, since associated itself with neither of the mentioned above population groups and preferred to spend money in the places with proper level of services provided. That was the context, in which our Steakhouse in Deribasovskaya Street offered a short menu of only 14-17 steaks and a dozen of salads and appetizers. The restaurant was successful, although regarded as some sort of extraordinariness. That's why Steakhouse celebrated its first successful five-year anniversary in the company of mimicking and disappearing half middle class. Meanwhile, first waitresses of the restaurant bought cars and took no more notice of foreign customers.
Mariana — then star of Steakhouse with huge breasts and command voice — was still looking for a husband/friend/sponsor-to-be. The casting was continuous, although first 'tastings' in Spartacus hotel on the opposite side of the road showed that Mariana was doing better with short-term relationship. One of the candidates named Ruslan was a frequent guest at the restaurant. He always came with metre-long red roses and casually left them for her. Flowers always reached Mariana, even if they were left on a different shift, and her heart kept melting under such rose pressure. In a month, Ruslan disappeared, which was in line with general trend. A month after that, Mariana announced she was getting married and would leave her position to move to Kiev. In six months, Mariana returned to Odessa and came to the restaurant, but there were no vacant positions, so we offered her a job in a different project. Ruslan became a frequent guest again, but did not spend money on flowers any more. Sometimes, when he got tipsy, he asked about Mariana, but never dared to phone her.
Meanwhile, Sophia Akopovna opened a small café for children in one of the most depressive areas of the city, paid no more visits to Steakhouse and heard no more criticism about using various types of imported additives. As for Raya, sometimes she strolled along Deribasovskaya Street, always dressed in long gowns that covered her shins almost to her shoes. When accompanied by an accidental prey, she wore a pale waxen make-up, and greeted everyone in a royal and constrained manner. The dress code remained unchanged. Once Raya came to the restaurant with a rather handsome southerner, an Italian, perhaps, and there was an unusual huge self-complacent 'I have made it in life' smile on her face. Then Raya disappeared from Deribasovskaya for several years, and even all-seeing staff had no information about her.
Back then, Spartacus hotel still treated foreign guests, and locals on some occasions, with cold-water rooms for $12-15 and unbleached grey sheets. I do not think they ever even tried to bleach them, because salaries in the public hotel were not high enough for that level of care. Spartan conditions of the hotel fully matched its name. Room prices did not cover a female companion. Passport details were registered, and only a few ladies agreed to show their documents. Security could turn a blind eye on a female guest, but only late at night and for the amount equal to the room price. Rooms could be checked, at least fat dames at the reception, specialising in post-Soviet hospitality, told so. Strangely enough, other two hotels Passage and Central in Deribasovskaya Street had similar dames, services and conditions. The entrance to Spartacus was just in front of Stakehouse on the opposite side of the street, and the staff eagerly kept an eye on the hotel visitors and their companions. It was more interesting in winter, since the number of familiar faces increased. Occasionally, they spotted one or two restaurant guests there, but only if the amount of consumed alcohol was enough to fully switch internal cultural and social control off.