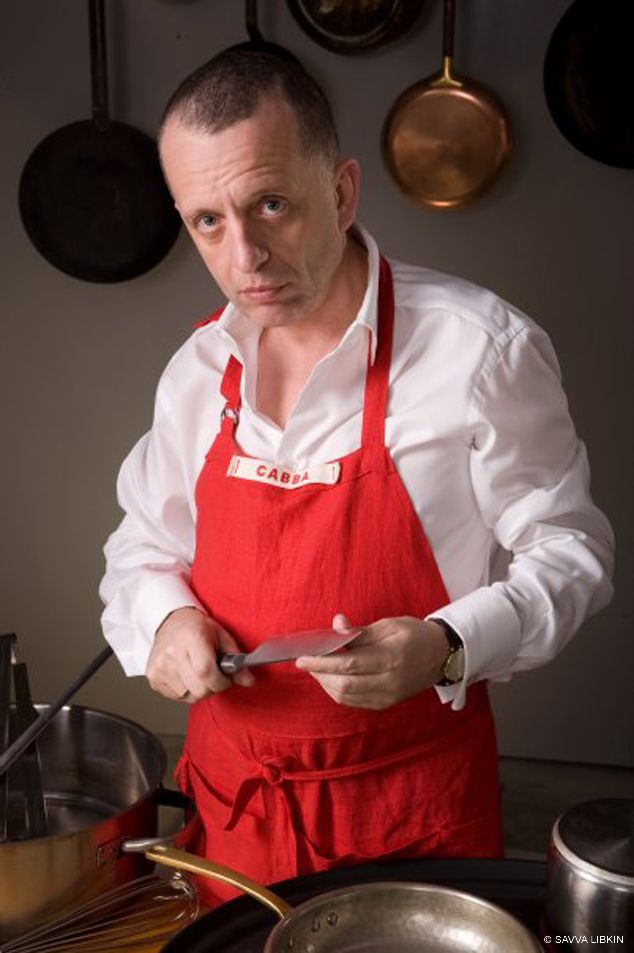 People quite often write to me and ask the following questions: 'Savva, could you please advise how to properly separate soft herring roe from membrane?' or 'Dear Savely, could you please tell, what can be cooked out of a kilo of yesterday quark?' Sometimes I get complaints on Facebook, e.g. 'I brought white truffles to Steakhouse, but was refused... How come?'
Caution, self-irony to follow.
It is early in the morning. Savva takes a ride on a tram to get to the Privoz Market, where he buys daily products for his restaurants. Stall-keepers cheerfully greet him, 'Savely Ilyich, I've got some flounder for you, just as you requested!' 'Savva, here are peaches for kompot!' Some of them kiss Savva's hands, he regards this with favour, without any snobbery.
After buying everything he needs, Savva goes to Dacha restaurant, where he puts his clothes in a special box, and changes into canvas pants and peasant shirt. He secures his outfit with twine around his waist and puts a chef apron on. Then Savely starts working. Today he needs to cook 150 kilos of vareniki [filled dumplings] for Kompot restaurant and to fry 1200 sprat cutlets for Dacha. Besides, he needs to get to Steakhouse in Deribasovskaya to chop meat properly. 'Let me help you at least with vareniki!', offers a cook, peeping into the kitchen. But Savva brushes him off irritated, 'You don't know how to wrap them, boy!'
Two Jewish fiddlers keep playing without a break behind Savva's back. There are yellowed sheets of paper with recipes from Odessa old women arranged on the table. Savva checks with them from time to time with the help of vintage magnifier with a thick lens. Occasionally, photographers from various magazines and crews of national channels come inside. They shoot the process, trying not to distract Savva from his work, but he pays no attention to them anyway.
Occasionally, Savva leaves the kitchen to have meetings with business partners. In this case, he just puts his lounge jacket on over the apron and keeps wrapping vareniki afoot. The fiddlers follow him. Sometimes he consults or is consulted by Aram Mnatsakanov and Sergiy Gusovsky [famous restaurateurs] with regard to where they should buy fattier sprat at the Privoz Market.
When the working day is over and all orders are fulfilled, Savva sighs with relief and mops his brow. The only thing left is to take pictures of the best dishes of the day and post photos to Facebook and Instagram. Whistling in tune with fiddlers' music, he runs to Dacha's garden to get some apricots for kompot, and then gets to the hammock to finish yet another chapter of multi-volume 'Forshmak Forever'.
This is how it goes for 6 days a week. The only day when Savva takes a well-earned rest is the Sabbath, which he dedicates to revising old Odessa recipes and thinking over new dishes he will cook for his guests next week.