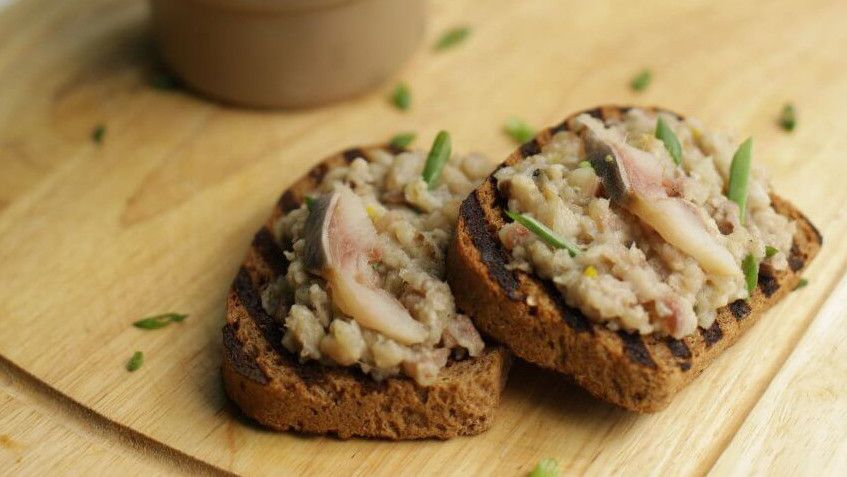 Almost any national cuisine was poor man's food once. This is especially true of the Jewish cuisine. Contrary to popular opinion, not all representatives of the Jewish people had last name of Rothschild, and very few of them had a chance to enjoy culinary delights served on golden plates. As time went on, many great-grandchildren of residents of Jewish towns, which were as poor as a synagogue mouse, got settled in capital cities all over the world, added their names to millionaire rankings and tried on watch that cost as a seaside house. But they still enjoy that iconic Jewish dish, which is so easy to cook that it is impossible to think of something simpler, no matter how hard you would try. I am referring to forshmak, or herring pate, which was obviously invented not for the fun of it.
Those in the know say that the word is literally translated as 'before taste', which is apparently rather a philosophical concept than a gastronomic one. Indeed, what can precede the taste in the context of meal? Those who came up with the name meant not only appetiser, didn't they? Perhaps, 'before taste' means some foretaste — an anticipation of pleasure given by this modest dish. The dish has long overgrown a common poor man's meal and become a sort of symbol of Jewish, Odessa and actually international cuisine. Just as Jewish people are scattered all over the world, forshmak recipes can be found in different countries, since every family has its own one, passed down through generations, improved with small tricks, making it unique.
As for ingredients, it is really difficult to think of something cheaper. Herring, onion, white bread, butter pepper and salt. Some also add soused apples or an egg, or a bit of vinegar, others can soak herring in milk first. It is said, that initially people used the herring that wasn't good enough for other meals. It is not hard to believe this. As mentioned above, there are numerous peculiarities, which can't be found in cookbooks: they are known only to a Jewish mummy or granny, and, what is important, your own one, rather than from a neighbouring family.
The first documented forshmak recipe (or at least one of the first) surprisingly recommends serving forshmak hot! Here is an example from Economical Book for Young and Inexperienced Housewives, issued in 1860: 'Clean and gut the herring, remove meat from bones, chop with onion and pepper; grind rusks in a mortar and add sour cream... Put into an oven for 15 minutes, until golden brown, and serve'. If we dig deeper, we will learn that initially forshmak was made of beef, but that forshmak was German, not Jewish. What are the advantages of the herring appetiser for Jewish people? The answer is simple — kashrut. Jewish religious tradition is known to strictly forbid mixing dairy and meat products. But there are no limitations for combining herring and butter! However, according to kashrut the interval between dairy and meat product meals shall be several hours, that's why faithful Jews will never use forshmak as an appetiser to kosher steak. This problem, however, can be solved by substituting butter with dairy-free margarine.
It is more the form, than the contents of modern forshmak that reminds us of the dish regularly served by our grandparents and great-grandparents. Hardly anyone will nowadays search up and down famous Odessa Privoz Market for stale herring to get that authentic 'trailer trash' taste. Nobody will tuck herring pate into an oven, as cookbooks of past centuries recommend. And it looks like forshmak will not escape the influence of the latest food trends. How that forshmak of tomorrow will look like? How much will be left of the dish we are used to? Will it be made of more 'prestige' fish species, such as specially salted gilt-head bream or halibut (both kosher, by the way) instead of plain herring? Or should we expect some molecular forshmak, brought to the state of air foam to be inhaled through the mouth by means of a green-onion straw? I think, all these culinary perversions with forshmak will have as many similarities, as a Jewish granny with a Japanese grandpa. Save me from this and be so kind to serve that good old forshmak on a slice of brown bread, since all the rest is from evil.
Regardless of what forshmak recipe and way of serving you choose, the main thing is to enjoy the process. Because, incredible as it may seem, in our time of foie gras, truffles and oysters these are simple pleasures that are in limited supply. Forshmak is certainly one of such things.