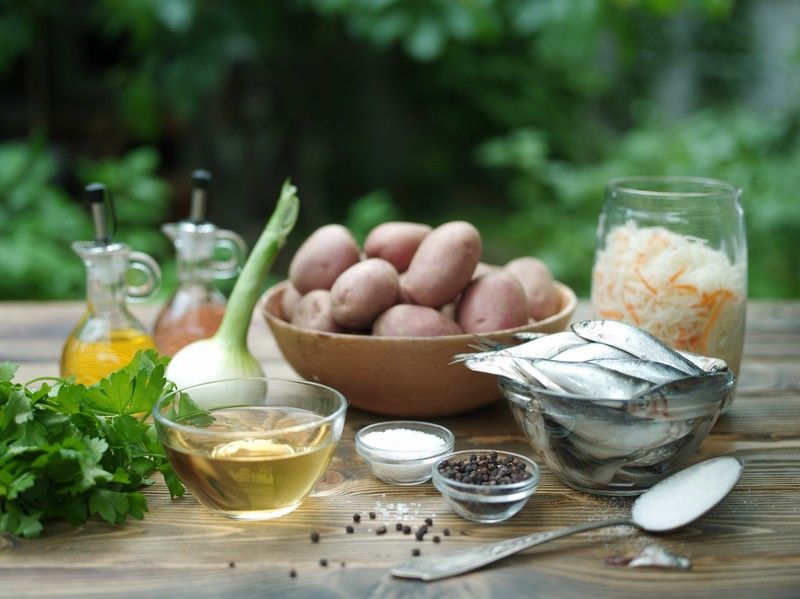 Danube herring with warm «Americanka» potatoes
If there is an opportunity, I definitely salt the Danube herring by myself: no matter what you choose in the market, you can achieve the ideal taste only with your own hands. For this purpose you better take fish directly from fishermen or from trusted suppliers in the market. Choose a fresh Danube herring without spots and traces of blood on the head, with shiny scales, dense tummy and glassy eyes.
Ingredients
For 2 servings:
1 kg of Danube herring;
1,5 kg of «Amerikanka» potatoes or other pink variety.
For the brine for 1 kilo of a Danube herring:
180 gm of salt;
2 tbsp. of sugar;
1 litre of water.
For seasoning:
1 medium-sized onion bulb;
0.3 tsp. of salt;
1 tsp. of sugar;
1 tsp. of 5% vinegar;
2 tsp. of seed oil.
For the sauce for 1.5 kilos of potatoes:
6 tbsp. of olive oil;
2 tbsp. of lemon juice;
a little bit of lemon zest;
0,5 bunch of a dill and a little parsley;
salt, pepper to taste.
Process
Before salting, the herring needs to be gutted: remove the head, scales and the blood along the spine. Then water soaks the herring for 4 hours, changing water for 3-4 times.

Meanwhile, prepare the brine: dilute 180 grams of salt and 2 tablespoons of sugar in 1 litre of water. Boil and cool it.

Take the herring out of the water and put it in a brine. Then place in the refrigerator for 3-4 days.

Remove the ready-to-eat herring from the brine, dry it with a paper towel, and clean it from the skin.

Make a cut along the herring back and remove the spine. Check fillet for no bones left in it.

Cut it into pieces and put it on a plate, returning the herring to its original form. It is not necessary to use Greek olives as eyes. But they will be quite appropriate, served in a separate bowl.

Peel onions, cut them into thin rings and blanch with slightly warm water. Let it cool and drain. Then add salt, sugar, vinegar, seed oil, mix it and serve together with the Danube herring.

Wash "Amerikanka" potatoes of the same average size, put into water, bring it to boil, add salt and cook on medium heat for 25 minutes.

Then drain the water and set the pot on the smallest fire for half a minute, so that the potatoes are slightly dried.

Meanwhile, prepare the sauce. For 3-4 minutes, vigorously shake olive oil with lemon juice, finely chopped herbs, lemon peel, salt and ground black pepper in a closed bottle.

Peel the hot potato keeping its form, season with olive-lemon sauce and shake several times in a saucepan, tightly closed with a lid.

After that, serve it immediately to the Danube herring with pickled onions.

Serve this dish better for the whole family at once, on a big plate. But you can use the herring plate.