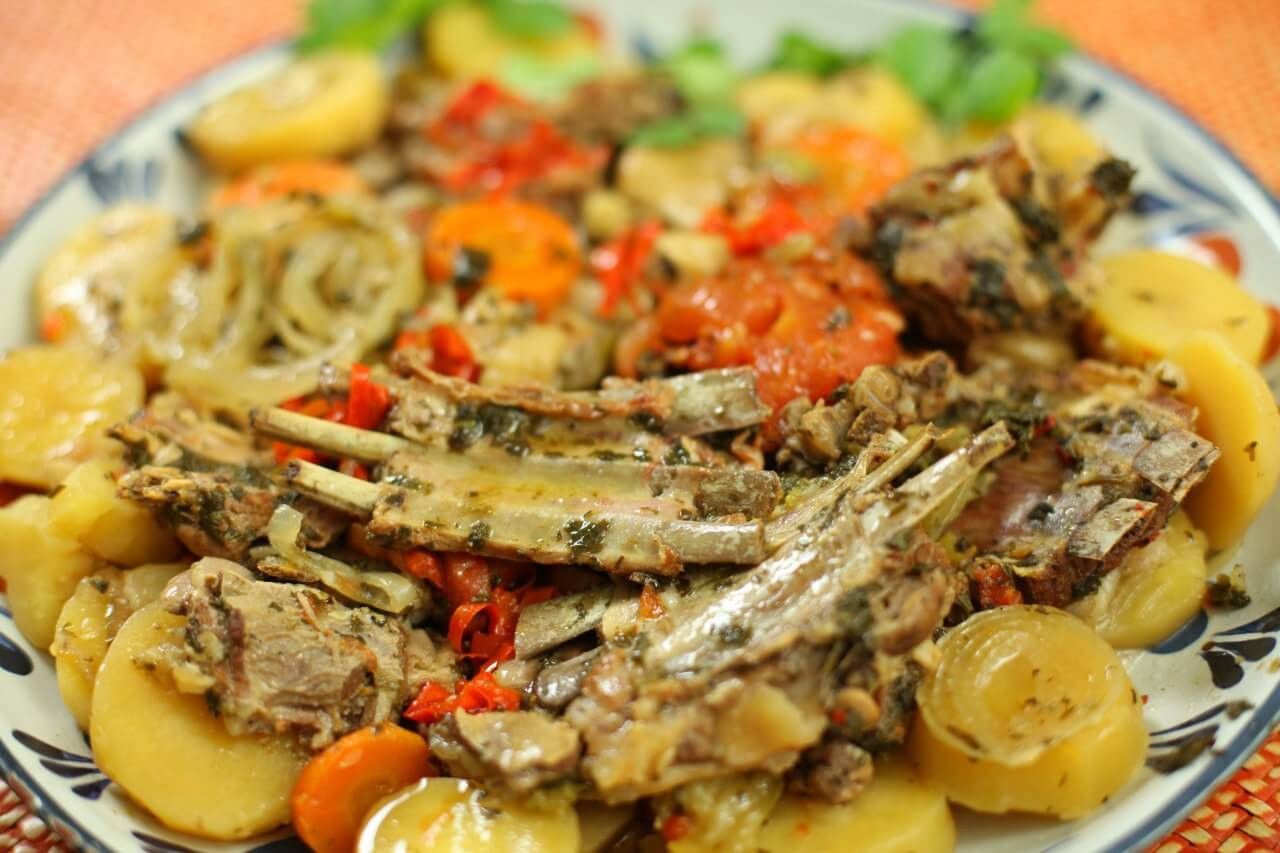 Lamb ribs with vegetables in the manner of Caucasian Ajapsandali
When I was fourteen years old it was one of the first courses I had cooked with my own hand and parents and guests liked it. At that time, I by myself was studying from the books of Pokhlebkin, Lemkul and the «Uzbek cuisine» which I had read to tatters, there I first time read about Ajapsandali. Then, I tried the same dish in the family of Odessa Georgians. And later, at a mature age, I repeatedly prepared it for bachelor parties and for family gatherings.
Ingredients
For 8 servings:
1.5 kg of stripped lamb ribs;
200 g pork lard;
1 kg of onions;
1 kg of small «Roksolani» potatoes;
2 eggplants;
3 bell peppers;
3 tomatoes;
1 hot pepper;
2 small courgettes;
1 medium-sized zucchini;
5 large heads of garlic;
1 carrot;
2 bunches of cilantro (about 100 g of green without twigs);
1 bunch of parsley;
2 big pinches of cumin;
1 tsp. of salt;
0.5 tsp. of freshly ground black pepper.
Process
To start, prepare vegetables and meat. Onions peal and cut into thin rings. Peeled tomatoes, clean courgettes, zucchini, carrots and eggplants cut into 1-centimetre thickness circles. Peel the garlic.

Wash potatoes, peel and also cut into circles, but 2 centimetres thickness. Remove seeds from bell pepper and cut into thin rings.

From hot pepper also remove the seeds and grind it into a crumb.

Lard freeze and cut into thin slices.

Meat cut into pieces of 100 grams with rib bones on each. All green chop into a crumb.

Start cooking. Mix greens, hot pepper, salt, cumin and black pepper and set aside.

Take two pots, such that one could freely fit into another. Pour 4-6 litres of water into large one. In fact the dish will be prepared in a steam-water bath.

Begin to stack the products into the smaller pot. At the bottom must be a layer of lard slices sprinkled with a mixture of greens and spices. Place half of the ribs on the top and sprinkle with greens again. Then consistently lay out all the vegetables in layers and the lamb again. Sprinkle each row with herbs and spices. The last layer is potatoes and greens.

Place the pot with the products in the pot with water. Cover it tightly with a large lid and set on high heat until the water boils. Put a load on the lid to ensure it built up. When the water boils, reduce the heat without opening the lid and prepare for 6 hours.

Not to get burned wrap your hands with a towel and carefully open the lid and take out the saucepan with the prepared dish.

Gently shift it t to a large dish: in the center put the layers of vegetables, on the top put the ribs and potatoes around. And serve the table with Ajapsandali.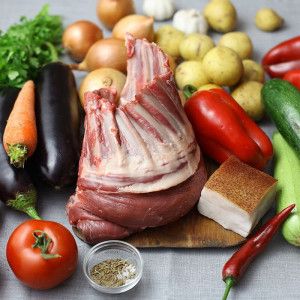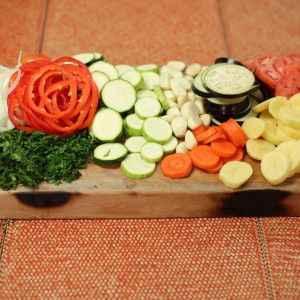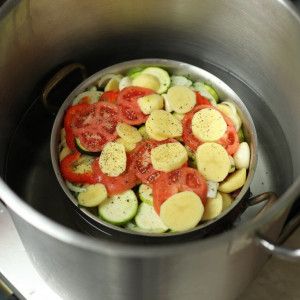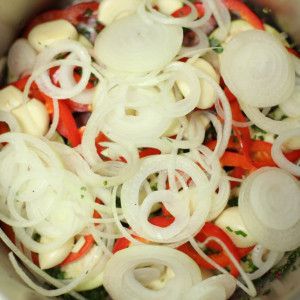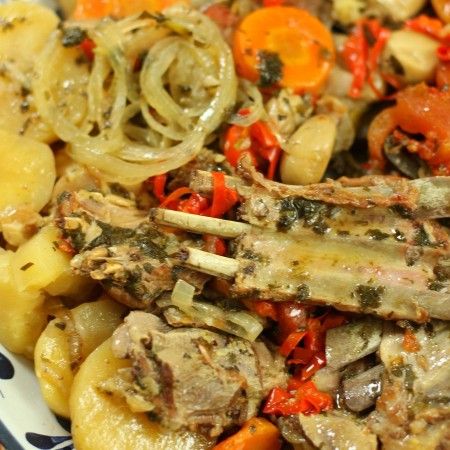 The broth remaining from the main course can be left in the morning as the best hangover cure. In fact, in the Caucasus Ajapsandali is often cooked as an exclusively vegetable dish. But in Odessa, this dish without meat is poorly understood.