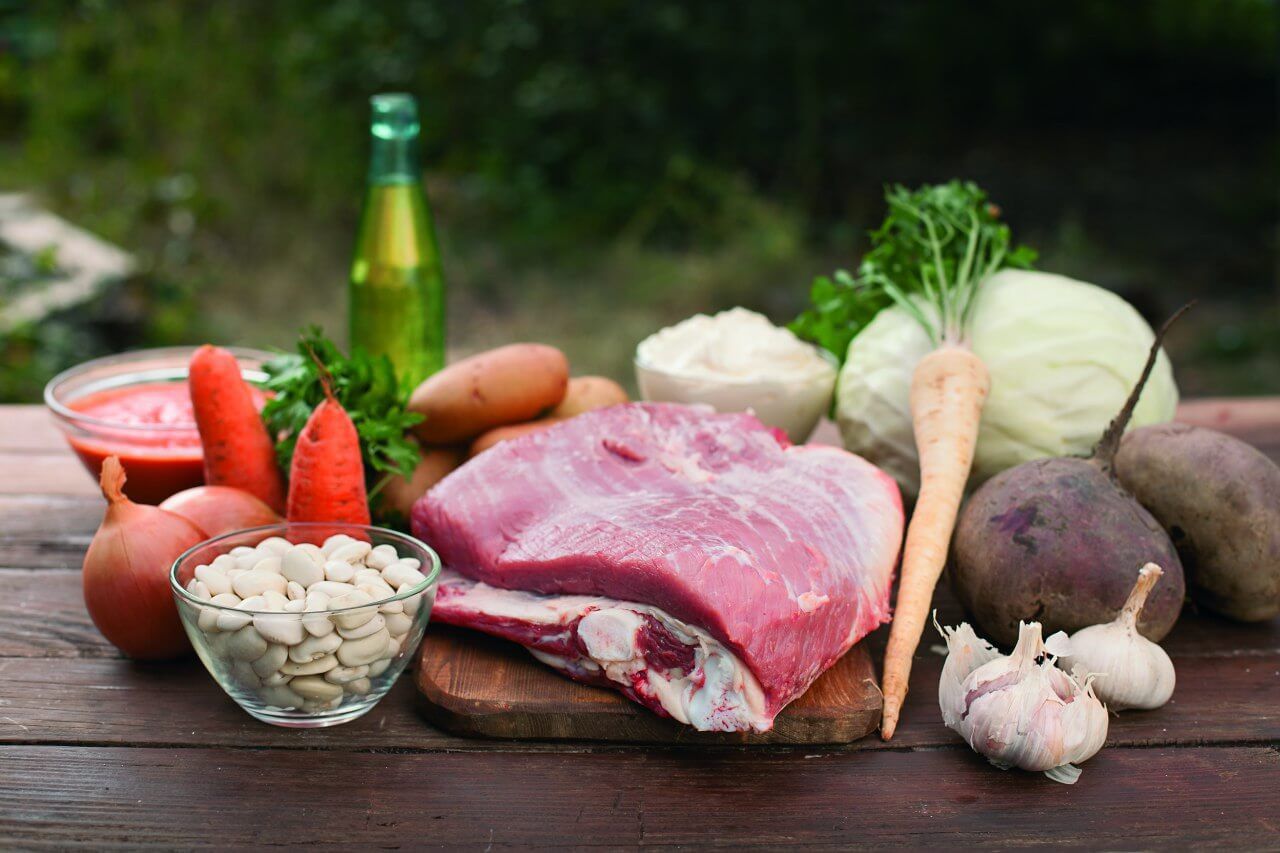 Red borsch with family nuances
Borsch as a dish I ceased perceiving when I was 7. It was when in the 74th school they gave it for lunch almost every other day. The public school, the state buffet and the watery-brown soup with cabbage I will remember for long.
To make the long story short, I did not eat borsch at school. At home either …Just because the name coincided and I was afraid of trying. Of course, I assumed it was entirely different at home, but school fears prevented me from trying it.
The first time I became interested in this dish when I saw my grandma Raisa preparing it. I was about 10 or 11, I do not remember correctly, but, taking into account that the discussion of what to cook always happened in my presence, I remember some repetitive nuances of talking on food.
Every evening my grandmother told my grandpa that my uncle did not eat anything, therefore he was so skinny. After that, they discussed issues of what food exactly had to be given to my uncle along to work. Then, what to cook for tomorrow, and so on. I slept in the same room with them, so I was aware of it.
The only dish that my uncle perceived was borsch, so it was often cooked because of it.
Borsch is a generally recognized gastronomic hit in Russia and Ukraine. When my friends or relatives come to me from abroad, I certainly prepare a red borsch and consider this dish not just a tradition, but one of the most delicious soups in the world.
Ingredients
For 1.8 kg of homemade puree from tomatoes:
1.5 kg tomatoes of "Plum" variety;
2 medium carrots;
5-6 celery petiole;
2 medium white onion bulbs;
10 cloves of garlic;
1 tbsp. of salt;
1 tsp. of ground black pepper;
250 ml of olive oil;
1 tbsp. of sugar.
For 5-6 plates of borsch:
1 kg of beef brisket;
2.5 liters of water;
600 g of beetroots with tops;
300 ml of seed oil;
400 g of white cabbage;
300 g of white potatoes;
2 medium carrots;
2 onions bulbs of medium size;
2 roots of parsley;
1-2 cloves of garlic;
300 g of tomatoes or 200 g of homemade tomato puree;
0.5 tbsp. of 6% vinegar;
300 g of homemade sour cream;
1 bunch of parsley;
sugar and salt to taste.
Process
To begin with, we have to cook tomato puree.

We blanch ripe, not too soft red tomatoes of "Plum" variety, remove the skin. Cut them into slices and remove the remains of the pedicle.

Wash carrots, clean and rub them on a medium grater. Ring onion, chop stalks of celery and garlic in slices.

Spread the vegetables in a cast-iron cauldron, pour olive oil and set on medium heat. Add salt, sugar and a bit of freshly ground pepper.

Cook tomato puree under the lid for one hour, periodically stirring it with a wooden turner.

Cool and grate with the help of the device for making a puree. (I had to see in Italy a

passapomodoro

-device for making puree from tomatoes: something between an electric meat grinder and a juicer. But in Odessa they are rarely used).

Put the prepared puree in clean jars and, if desired, either put it in the fridge or hide it until winter.

Now, we pass to the borsch itself. The brisket (ribs with meat) we pour with cold water and cook for two hours almost without boiling, observing all the nuances for cooking the broth (see the recipe"Broth cubes …").

Add salt to the broth and take all vegetables and greens out of it. Leave the meat in. It is important to cook simultaneously with borsch.

10. Clean the early beetroots and cut it in straw. Do not use a grater.

11. Sprinkle beetroots with vinegar and simmer on medium heat using seed oil. At the last stage, add pulp of red, peeled tomatoes without seeds or homemade tomato puree to the beetroots. Stew for another 10 minutes until thick and add a spoonful of sugar.

12. Slice carrots in straw, parsley root, onions and panfry them in seed oil for 10 minutes.

13. Wash and clean the white potatoes and cut into chunks. Even if you prepare borsch from early vegetables, use last years potato. Early potato does not fit in borsch.

14. Slice the young cabbage thin. Stems of young beetroots are cut into pieces of 5-6 mm.

15. Without taking out meat, add potatoes to the broth and cook for 15 minutes. At the same time, add all the remaining stewed and raw vegetables. Cook without boiling for another 10 minutes.

16. Leave borsch to "rest" for two hours without removing the lid from the pot.

17. Take out bones, leaving the boiled meat in the borsch.

18. Press down the clove of garlic with a knife and crush it into a crumb. Finely chop the green parsley. To homemade sour cream, put salt, garlic, parsley and mix it.

19. Cut off a piece of reddened meat and put it in a plate. Add two ladles of borsch and add a tablespoon of sour cream with greens.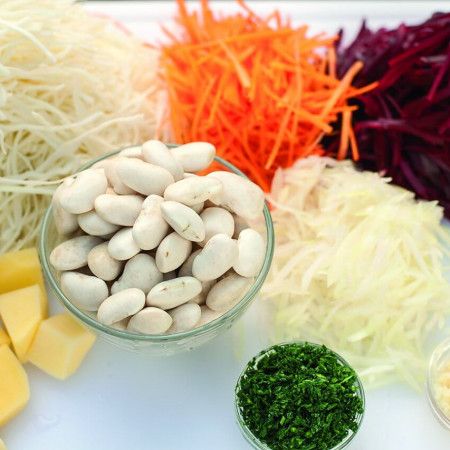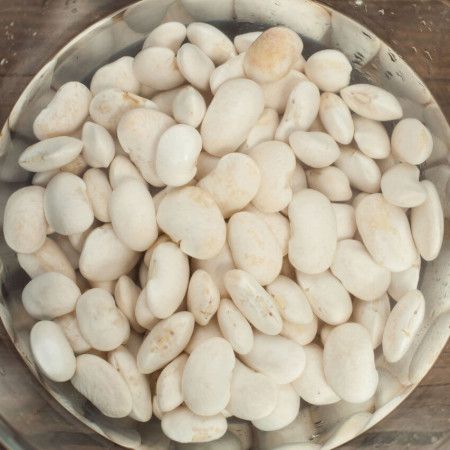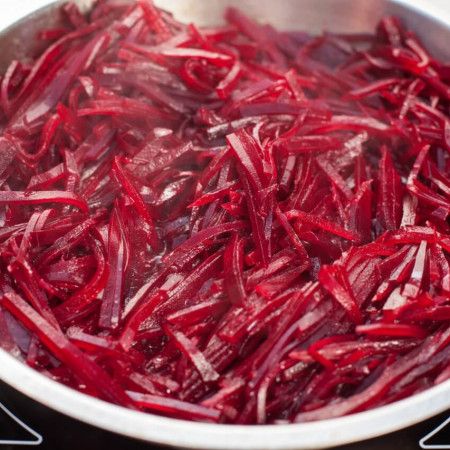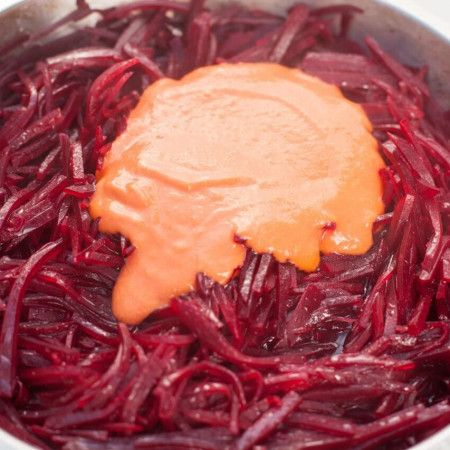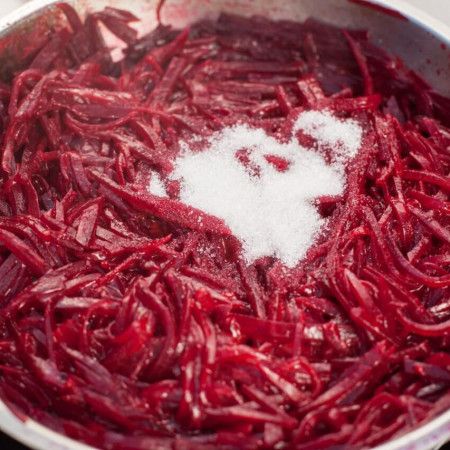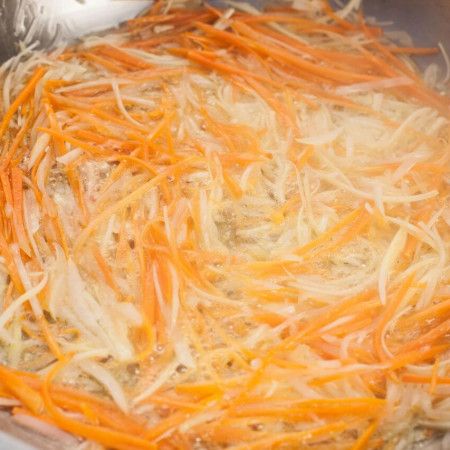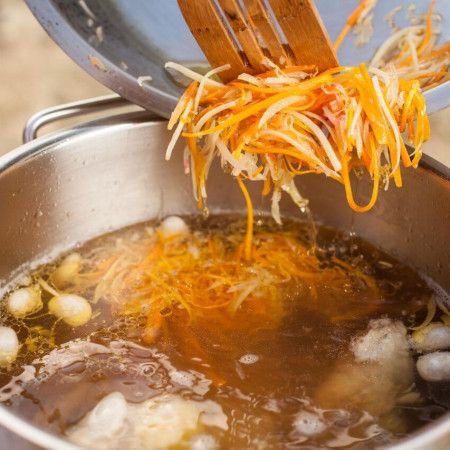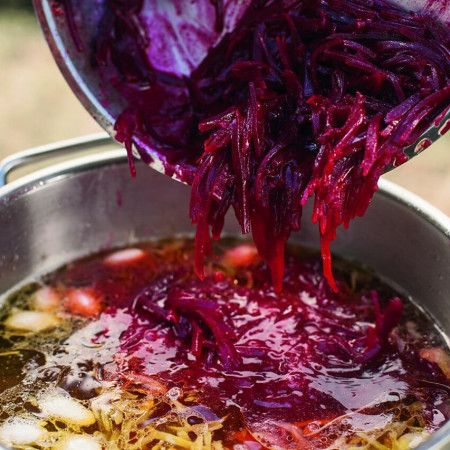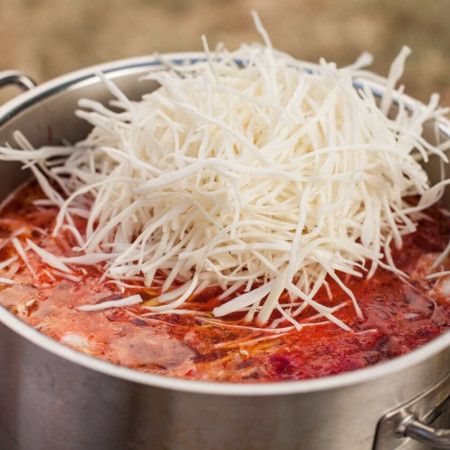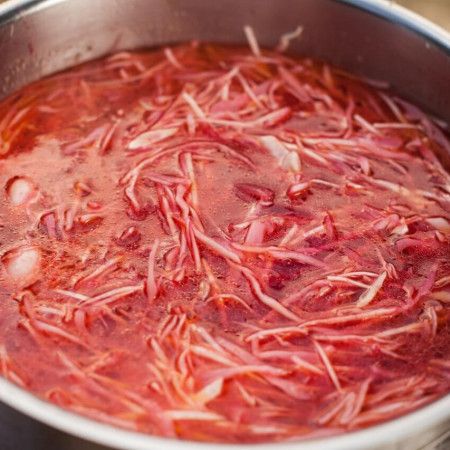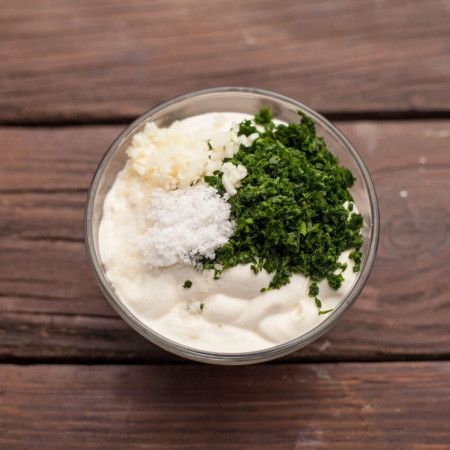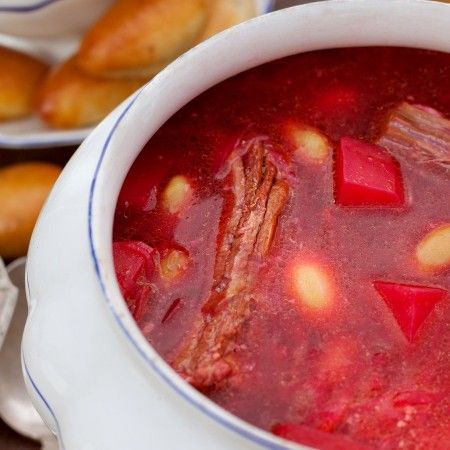 For the winter version of borsch, I pre-boil beetroots for half an hour in water with vinegar. Also, part of the potatoes can be replaced by pre-cooked large beans. At home, we call it "shovel". As for the rest, the technology of winter borsch is the same. But the taste differs from the spring one. I do not put in borsch bacon (salo), black and sweet pepper, - they distract attention. In the cooking process, you can add some fresh porcini mushrooms, but then do not put garlic in sour cream. Better to cook borsch for 2 days. On the next day after the preparation, it acquires a specific density and richness of taste.