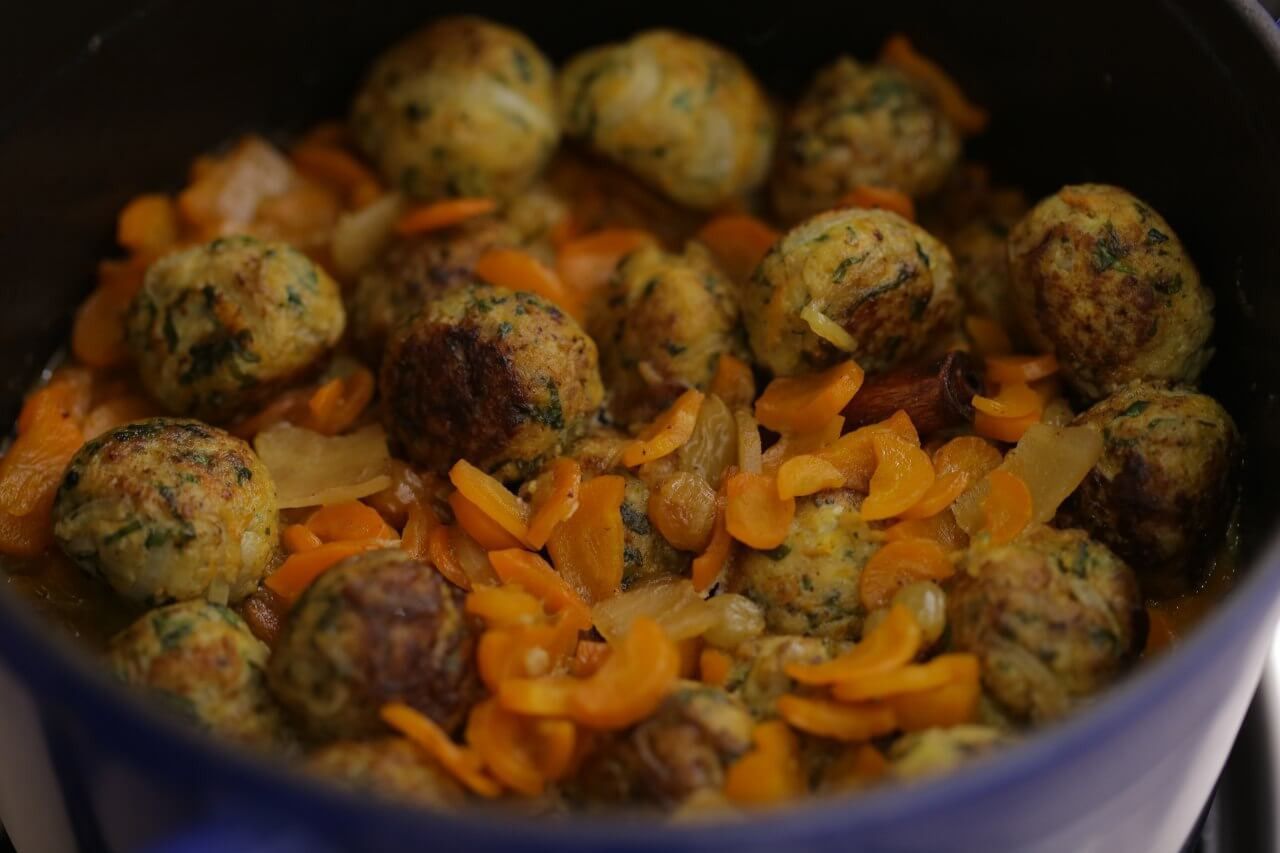 Tzimmes with chicken meatballs
The tzimmes recipe with meatballs will be the first recipe from the book «Odessa feast: from Privoz to Deribasovskaya», which I will share in a blog. The full version is traditionally in the book, the preparation for printing of which is at full speed.
Ingredients
For 4 servings
For meatballs:
300 grams of boneless chicken;
150 g of onions;
50 g of carrots;
20 grams of garlic;
3 egg yolks;
50 g of white stale bun;
100 ml of milk;
salt and freshly ground black pepper to taste;
50 g of cilantro;
100 ml of vegetable oil for frying.
For tzimmes:
70 ml of olive oil;
20 g of garlic;
40 g of candied ginger;
800 g of young carrots;
1 stick of cinnamon;
10 g of nutmeg;
70 g of acacia honey;
70 g of light seedless raisins;
250 ml of chicken broth;
salt and freshly ground black pepper to taste.
Process
Cook the meatballs first.

Onions cut into slices, rub carrots on the smallest grater and press the garlic through the garlic press.

Finely chop cilantro green.

Soak the bun in the milk and squeeze it.

For cooking meatballs, mince chicken meat along with the rest of the ingredients, add yolks and spices. All knead until smooth stuffing.

Make meatballs with a diameter of 2.5-3 centimeters.

Tzimmes cooking. Warm up olive oil in the cauldron and throw chopped into thin slices garlic and candied ginger into it. After 5 minutes of browning, add washed and peeled carrots, sliced and cinnamon sticks and braise 5-10 minutes, until the carrots begin to roast.

Add chicken broth, honey, nutmeg, raisins, salt and black pepper. Stew for 10 minutes under the not tightly closed lid. A third part of the broth should evaporate.

Meatballs fry in vegetable oil on all sides for several minutes.

Add the meatballs to the tzimmes and simmer together for another 10 minutes until the broth is completely boiled away.

Quickly serve an elegant dish to the table with dry white wine.